Details

Category: St Annes
Published on Wednesday, 18 March 2020 12:57
Written by St .Anne's Principal
Hits: 3210
19th May 2020
In Conversation... Prof Argyris Stringaris
In this podcast Professor Argyris Stringaris discusses his research, including the effects of experience on mood and machine learning and bio-statistics discussed in this JCPP editorial. He also talks about The CoRonavIruS Health Impact Survey (CRISIS) an international project working to understand the coronavirus' impact on mental health
Let's talk about ADHD
Much of the available information on ADHD is aimed at parents and carers rather than children. The ADHD Animation Research Team at Cardiff university talk about the medium for addressing children in this new blog.
Brioney Gee gives a 4 min video abstract of her 'Practitioner Review: Effectiveness of indicated school‐based interventions for adolescent depression and anxiety – a meta‐analytic review' first published in Journal of Child Psychology & Psychiatry (JCPP) 6 April 2020. Press play to watch on YouTube, or watch via our website by clicking here.
Improve the mood of children and families during lockdown
In this short article Dr. Andrew Beck looks at how an evidence-based treatment for depression called Behavioural Activation (BA) could be helpful for families in lockdown.
New CAMH Editorial, a must read
"Since its inception in 1980, the term PDA has generated much debate, indeed, arguably few subjects have generated such controversy in the neurodevelopmental literature." New CAMH Editorial from Dr. Ann Ozsivadjian.
The Bridge new issue
The latest issue of The Bridge, our free online publication presenting the most clinically-relevant research from our two peer reviewed journals, focuses on 'Deafness in Children'. Read each of the 7 articles online of download The Bridge as a pdf.
For the latest releases of our research digests follow our new twitter handle @researchdigests
6th May 2020 Middletown Centre Webinar Series May 2020

In order to provide support during the suspension of our face to face delivery Middletown is offering a series of twice weekly live webinars. These sessions will feature members of our own multi-disciplinary team and international speakers on a series of themes.
Please click on the link beside each name to read more about the session and register to attend a live session.
Adam Harris
What Works for Me
Thursday 7th May 2020 - 19:00
Frances O'Neill
Visual Supports for Anxiety Management
Tuesday 12th May 2020 - 19:00
Kari Dunn Buron
5-Point Scale
Thursday 14th May 2020 - 19:00
Tara Vernon
Promoting Sleep
Thursday 19th May 2020 - 19:00
Jed Baker
Managing Meltdowns
Tuesday 21st May 2020 - 19:00
Tony Attwood
Stress and Coping
Thursday 28th May 2020 - 10:00am **Live Only Session**
The live sessions will host a maximum of 500 delegates live and most sessions will be posted on social media the following day. Sessions marked 'live only' will not. Please consider the maximum number of places available when booking your place.
1st May

2020

Anouncement from Taoiseach Leo Varadkar: Schools to remain closed until September.
We hope all our families, and particularly our pupils, continue to have good health. We all miss the children and we look forward to the time when we can continue to work with them and when it safe to do so. Thinking of you all.
28th April

2020

NCSE Update
NCSE have published the first 4 of 7 behaviour resources on their website that might be of interest to you. These have been developed by their Behaviour Practitioners and other Regional Team Members https://ncse.ie/parent-primary-promoting-learning-and-behaviour-at-home
10th April 2020 - News today - schools are closed until further notice due to Covid-19. Further updates will be published when available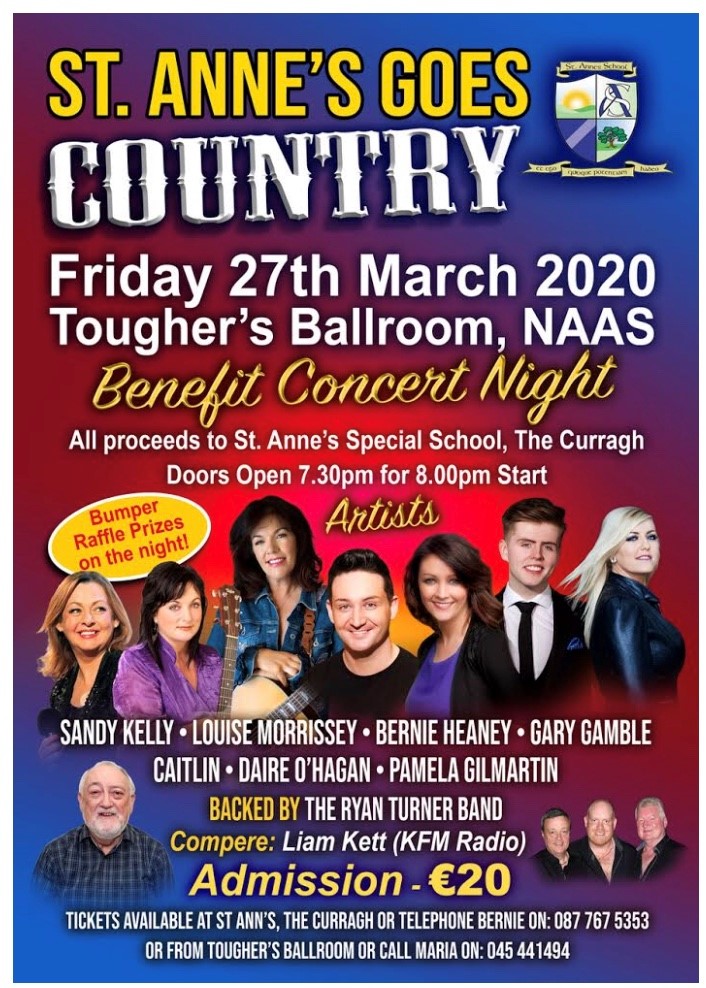 EVENT POSTPONED UNTIL MARCH 2121
In light of the current situation with COVID-19 this event has been cancelled temporarily. Advice received is that schools must close until September 2020. It is uncertain, at this stage, what opening our school will look like at that time. We hope it will be back to fully functioning.
On the advice of our events organiser we are now going to run this event in March 2121 and he is busy rescheduling a new date with all the performers. We sincerly apologise for this change as we were looking forward to the night and especially to the much needed funds it would generate.
We would like to reassure everyone who purchased tickets that All tickets sold will be honoured on the new date. However we are aware that any new arrangements may not suit everyone, should this be the case we will refund your money on presentation of your ticket.
We promise that we will keep you informed on this as we get further information.
Apologies to all but we look forward to meeting you all at this great event
A reminder of some important dates coming up during this school year:
Friday 27th March 2020 - Benefit Night - to be rescheduled
Friday 12th June 2020 - Sports Day - cancelled
Thursday 18th June 2020 - Graduation Night - to be rescheduled
The calendar for 2020 - 2021 school year is now availale to view here
---