Latest Information on Reopening St. Anne's School
Details

Category: St Annes
18th November 2020

- A Parents Guide to Close Contacts (HSE)
27th October 2020 - Letter to Parents/Guardians from Principal available here

2nd October 2020 -

Covid Plan Updated - available here
20th September 2020 - Letter to Parents/Guardians available to read here
19th September 2020 - HSE Information for Parents
14th September 2020 - Letter to Parents/Guardians available to read here
4th September 2020 - Letter to Parents/Guardians available to read here
27th August 2020 - Letter to Parents/Guardians available to read here
24th August 2020 - Advice during COVID-19: Back to school - Advice for Parents
22nd August 2020 - Letter to Parents regarding St. Anne's School Reopening dates here
18th August 2020 - St. Anne's Plan for Reopening School drawn up
17th August 2020 - Latest Government Advice below:
Reminder to anyone attending school who has travelled abroad:
Government policy, which is based on official public health advice, continues to advise against non-essential travel overseas for everyone.
It is a requirement for anyone coming into Ireland, from locations other than those with a rating of 'normal precautions' ("green"), to restrict their movements for 14 days, and this includes school staff, parents and children or other students coming from abroad to attend school in Ireland. Restricting your movements means staying indoors in one location and avoiding contact with other people and social situations as much as possible.
14th September 2020
Letter to parents issued today available here
9th August 2020
DES COVID-19 Response Plan for the Safe and Sustainable Reopening of Primary and Special Schools. (27th July 2020) Please click here to read.
Also check our policy section for our Covid - 19 Policy Statement
27th July 2020
Click here to read Letter to Parents from Norma Foley TD Minister for Education
1st May 2020
Anouncement from Taoiseach Leo Varadkar: Schools to remain closed until September.
10th April 2020
Schools are closed until further notice due to Covid-19. Further updates will be published when available.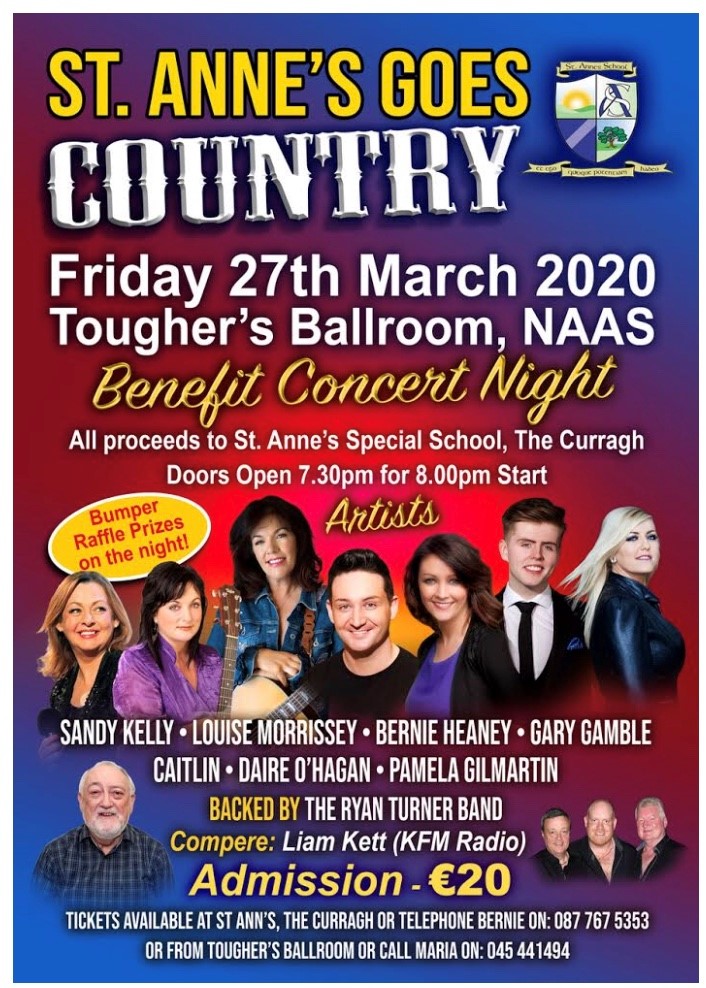 St Anne's Goes Country - Postponed until March 2021
On the advice of our events organiser we are now going to run this event in March 2021 and he is busy rescheduling a new date with all the performers. We sincerly apologise for this change as we were looking forward to the night and especially to the much needed funds it would generate.We would like to reassure everyone who purchased tickets that All tickets sold will be honoured on the new date. However we are aware that any new arrangements may not suit everyone, should this be the case we will refund your money on presentation of your ticket.We promise that we will keep you informed on this as we get further information.
The calendar for 2020 - 2021 school year is now availale to view

here
---
Details

Category: St Annes
Supporting your Child's Learning and Wellbeing
The staff of St. Anne's are very aware that these can be difficult times for parents trying to manage their families safely within the current restrictions. The teachers have linked together to come up with suggestions for activities that you might be interested in trying and which the family, as a group, can enjoy.
We are thinking of you all in these difficult times and hope that we all come through it safely.
Please click here to access the link to suggested activities
Specific Curriculum Information
Home Economics - Video links to specific areas covered can be found here
Lamh Free membership and access to online resources has been extended until the end of August 2020. Go to www.lamh.org When you log on use code lovelamh to gain access.
Therapeutic supports
22nd June 2020
Autism, Social Anxiety and Masking
Social Anxiety effects most Autistic people, whether it's the child who refuses to go to school or the adult who cannot leave their house.
During this webinar we will explore social anxiety and its causes, the impact social anxiety has on our communication and interactions with other people and ways we can overcome it.
We will also look at masking as a stress response to survive in an unaccepting world and share our own experiences with masking from an early age and de-masking as adults
This webinar would be highly beneficial to :
Parents of Autistic children who find going new places difficult, find it difficult to leave their safe space or safe people, display situational mutism as a result of social anxiety, refuse to go to school or who lack confidence with their peers.
Professionals who work with Autistic children, teens and adults such as teachers, SNA's, therapists, social care workers, mental health professionals.
Autistic people who would like to learn more about how the social environment impacts us, and ways to reconnect with your true self.
Join our 3 Autistic Speakers on Thurs July 2nd 7pm to 9.30pm
Webinar fee is €20 including
slides
certificate of attendance
full recording.

Even if you can't make the live webinar, sign up and watch it in our own time, at your own convenience.
Online Version of this course coming soon!
2nd June 2020
Food sensitivities and proclivities - 'Autism, a parents guide'
In episode 6, of our podcast series for parents/carers of children with autism, Dr. Vicki Ford, of the complex feeding team at Evalina London Children's Hospital, looks how to build a healthy relationship with food whilst understanding the challenges for many autistic children. Full details here.
Yasmin Ahmadzadeh summarising her paper published in the JCPP 20 May 2019. 'Anxiety in the family: a genetically informed analysis of transactional associations between mother, father and child anxiety symptoms'.
Open access: doi.org/10.1111/jcpp.13068
Press play to watch or visit the acamh website.
Dealing with apprehension and anxiety when returning to school
The charity Nip in the Bud has produced a short film and fact sheet to help parents and teachers deal with any potential feelings of apprehension and anxiety that children may experience on returning to school. Full details here.
Link to Covid - 19 social story - https://asiam.ie/social-story-covid-19-lockdown/

The Association for Child and Adolescent Mental Health
Last week Dr. Jon Goldin, Vice-Chair of the Child and Adolescent Faculty at the Royal College of Psychiatrists spoke to ACAMH - child mental health and Covid19, do please listen and share this podcast.
Coronavirus, and helping children with autism
New podcast, please share with relevant networks.

Dr. Ann Ozsivadjian and Dr. Marianna Murin discuss issues that may arise for autistic children including the disruption of closing schools, anxiety and obsessive behaviours. They focus on practical tips like how to help manage anxiety, maintain structure and support and explain the situation to young people. Additionally, tips on how to keep well as a parent and reliable sources for coronavirus updates.
The National Council for Special Education (NCSE) is providing online resources during this time.
The link below is to materials have been developed by Occupational Therapists and Speech and Language Therapists. We have been advised that more resources will be added in the coming days.
https://ncse.ie/online-resources
https://ncse.ie/online-resources-for-parents
NCSE Update 28th April
NCSE have published the first 4 of 7 behaviour resources on their website that might be of interest to you. These have been developed by their Behaviour Practitioners and other Regional Team Members https://ncse.ie/parent-primary-promoting-learning-and-behaviour-at-home
Sensational Kids has just announced a new innovative virtual care package
"Access to therapy supports for a child or adolescent can make all the difference in the world, which is why we are innovating to improve access to services and to look after our vulnerable children and adolescents, when clinic based services are unavailable. You can now connect with us remotely for Virtual Care."
https://www.sensationalkids.ie/online-therapy/
Make a Wish Ireland Fun Family Activities
https://www.makeawish.ie/get-involved/fun-family-activities
Details

Category: St Annes
Published on Sunday, 27 September 2015 13:03
Written by St .Anne's Principal
Hits: 3264
Child Safeguarding Statement
St. Anne's School
Roll Number 19277B
  St. Anne's School is a primary special school providing primary and post-primary education to pupils from Junior One to Senior Six (5 to 18 years of age) 
In accordance with the requirements of the Children First Act 2015, Children First: National Guidance for the Protection and Welfare of Children 2017, the Child Protection Procedures for Primary and Post Primary Schools 2017 and Tusla Guidance on the preparation of Child Safeguarding Statements, the Board of Management of St. Anne's School has agreed the Child Safeguarding Statement set out in this document.
1       The Board of Management has adopted and will implement fully and without modification the Department's Child Protection Procedures for primary and post-primary Schools 2017 as part of this overall Child Safeguarding Statement.  
2       The Designated Liaison Person (DLP) is: Pauline Dempsey___  
3       The Deputy Designated Liaison Person (Deputy DLP is: Mary Fleming__  
4       The Board of Management recognises that child protection and welfare considerations permeate all aspects of school life and must be reflected in all of the school's policies, procedures, practices and activities. The school will  adhere to the following principles of best practice in child protection and welfare.  The school will: 
recognise that the protection and welfare of children is of paramount importance, regardless of all other considerations
fully comply with its statutory obligations under the Children First Act 2015 and other relevant legislation relating to the protection and welfare of children
fully co-operate with the relevant statutory authorities in relation to child protection and welfare matters
adopt safe practices to minimise the possibility of harm or accidents happening to children and protect workers from the necessity to take unnecessary risks that may leave themselves open to accusations of abuse or neglect
develop a practice of openness with parents and encourage parental involvement in the education of their children; and
fully respect confidentiality requirements in dealing with child protection matters 
The school will also adhere to the above principles in relation to any adult pupil with a special vulnerability. 
5       The following procedures/measures are in place: 
In relation to any member of staff who is the subject of any investigation (howsoever described) in respect of any act, omission or circumstance in respect of a child attending the school, the school adheres to the relevant procedures set out in Chapter 7 of the Child Protection Procedures for Primary and Post-Primary Schools 2017 and to the relevant agreed disciplinary procedures for school staff which are published on the DES website 
In relation to the selection or recruitment of staff and their suitability to work with children, the school adheres to the statutory vetting requirements of the National Vetting Bureau (Children and Vulnerable Persons) Acts 2012 to 2016 and to the wider duty of care guidance set out in relevant Garda vetting and recruitment circulars published by the DES and available on the DES website
In relation to the provision of information and, where necessary instruction and training to staff in respect of the identification of the occurrence of harm (as defined in the 2015 Act) the school:                                  
                               i. Has provided each member of staff with a copy of the school's Child Safeguarding Statement
                              ii. Ensures all new staff  are provided with a copy of the school's Child Safeguarding Statement
                             iii. Encourages staff to avail of relevant training
                             iv. Encourages Board of Management members to avail of relevant training
                             v. The Board of Management maintains records of all staff and Board member training.
In relation to reporting of child protection concerns to Tusla, all school personnel are required to adhere to the procedures set out in the Child Protection Procedures for Primary and Post-Primary Schools 2017, including in the case of registered teachers, those in relation to mandated reporting under the Children First Act 2015
In this school, the Board has appointed the above named DLP as the 'relevant person' (as defined in the Children First Act 2015) to be the first point of contact in respect of the school's child safeguarding statement. 
3   All registered teachers employed by the school are mandated persons under the Children First Act 2015 
4   In accordance with the Children First Act 2015, the Board has carried out an assessment of any potential for harm to a child while attending the school or participating in school activities. A written assessment setting out the areas of risk identified and the school's procedures for managing those risks is attached as an appendix to these procedures 
5  The various procedures referred to in this Statement can be accessed via the school's website, the DES website or will be made available on request by the school 
Note:  The above is not intended as an exhaustive list. Individual Boards of Management shall also include in this section such other procedures/measures that are of relevance to the school in question                       
6       This statement has been published on the school's website and has been provided to all members of school personnel, the Parents' Association (if any) and the patron.  It is readily accessible to parents and guardians on request. A copy of this Statement will be made available to Tusla and the Department if requested. 
7       This Child Safeguarding Statement will be reviewed annually or as soon as practicable after there has been a material change in any matter to which this statement refers
This Child Safeguarding Statement was adopted by the Board of Management on 6th March 2018